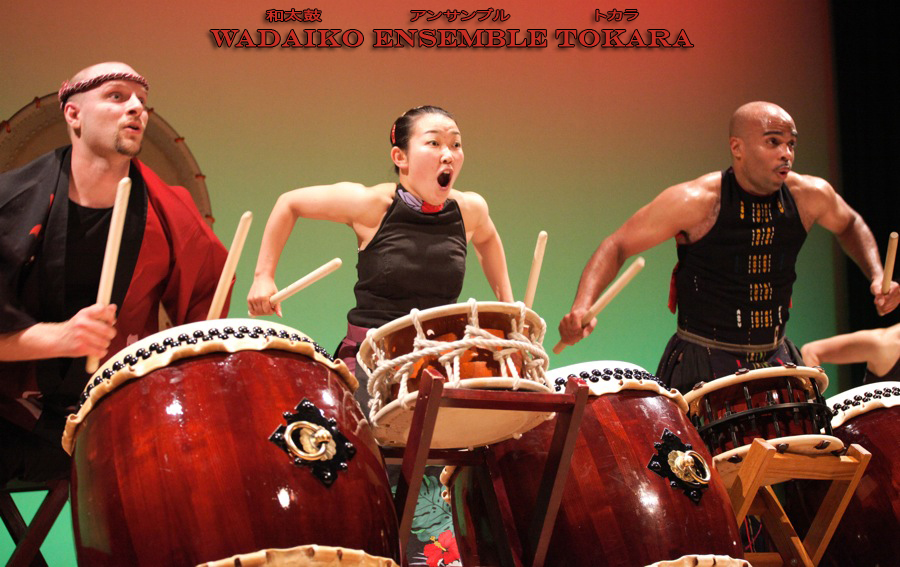 My nine-year-old son was my date last night.
We went to see Wadaiko Ensemble Tokara, a taiko drum performance group that originates from Japan (although, as we learned, their six members are from five different countries). The venue was a tiny arts stage in St. Paul (MN) about 50 minutes from our home – and we were front and center.
Taiko Drumming has taken many forms, from traditional Japanese taiko to more "Westernized" taiko, which is often fused with other musical instruments and even dance choreography and martial arts movements. Tokara tends to do a lot with changing rhythms and fast, hard playing, often in physically demanding body positions. They also do their fair share of dramatic arm and body movements (which happens to be one of my favorite aspects). Their lead player was one of the Taiko Grand Champions in 2005, and they just produced their very first CD/album.
It was over all too quickly (80 minutes or so) but who could blame them? Theirs is a seriously HIGH ENERGY type of taiko playing! I couldn't keep that kind of energy even that long! On the way home, the show was rated "The best show I've EVER seen" … by my son! (Guess that means MY taiko recitals don't rate…)
If you'd like to see some cool taiko drum playing – without leaving your home – I recently posted some of my favorite taiko drumming videos on my Taiko Drum page.